Page updated: 17 Jan 2011
IF YOU FIND BAD LINKS,PLEASE E-MAIL ME.
Wolverine Beagles
[ Due to some old fuddy duddy neighbors, I no longer have rabbits.
I will still answer any question you may have concerning raising rabbits
for your starting pens. I am truly sorry! ]
****All underlined text is a link to info on that text*****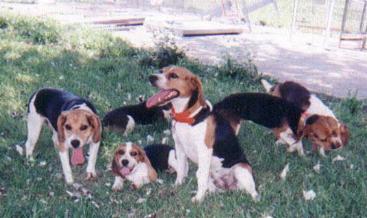 We are a dealer for, and recomend INNOTEK training products.



Our prices ARE competitive with the mail order houses.
E-mail for more info, and prices

---
Kennel Design
Here it is! Not much content but it might give you some ideas.
Come take a look at my kennel construction.

---

My name is Dave Jones, and my hounds are Wolverine Beagles. I am a Retired Technical Sergeant of the United States Air Force, Located near Whiteman Air Force Base in Knob Noster, Missouri. The home of the B2 Stealth Bomber. I am originally from Oak Park, Michigan, a small community outside of Detroit. I got into raising Beagles about seven years ago, and really enjoy it. The bloodlines I am mostly into are the Gay, Weircreek, and CHB Thorn Gap Dark Ralph lines. I have several GayHounds at this time. From oldest to youngest,Dickey's Gay Bandit , a son of FC Ben's Creek Happy Boy X Johnson's Cindy. DJ's Lil Chop Mouth Nicci, and next on the totem pole is Brushcreek Gay Nell. She is out of Gay Ring, and Shells Gay Babe. I have a double bred granddaughter of FC Bevo's Weircreek Demon, and her name is Bevo's Weircreek Demon Jenny. The last registered dog I have at my kennels is a great granddaughter of CHB Deer Park Ike, her name is DJ's Cedar Lane Britney . I have a grade 15" beagle her names is Goodman's Rabbit Run Casey. She was my first beagle and is my best friend. I have a couple of new hounds; DJ's Horn Hollow Buzz, He is out of Jenny and PPRCH Horn Hollow Harley. TA's Bullseye II, He is a Grandson of Nicci, and is a nephew to Bandit. DJ's Cedar Lane Jill, She is a half sister to Britney out of GBRCH Rocky Top Boodro. I also recently got a pup I raised out of Babe and Bandit back. Her name is TA's Gay Pearl. Well, The years have past and many of my hounds have crossed the Rainbow Bridge, or found new homes. I have added a few and will try to get this page updated over the next few weeks. Thank you to all the Beaglers who have visited here, it has given me new found resolve to stay into Beagling. Dave



If you are looking for info on Beagles, such as books, calenders, video's etc....
Search the Amazon database below using word, and phrases containing;
beagle, BEAGLE, The New Beagle, The complete Beagle, and so on...


Check Here for some great deals on Dog, Hunting, and Gun Magazines!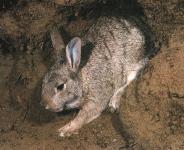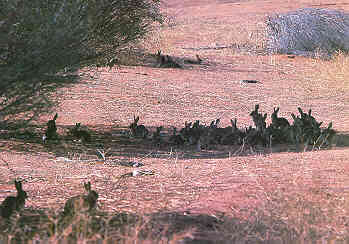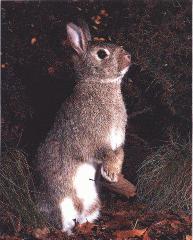 The pictures above are of European wild rabbits, commonly refered to
as San Juan rabbits by U.S. beaglers, because of their origin from
the San Juan Islands in Washington State. They average between five and
eight pounds in weight, that is why we cross with the dutch to get the size
down similar to a cottontail rabbit.
They is a cross between the brown dutch and san juan rabbits, called Knot heads.
These rabbits are used to start the early training of Beagle puppies.
( NO! THE PUPS DO NOT KILL THE RABBITS!)




Sample contact I used when I was raising Pups to sell. I no longer do this. The only time I will breed my hounds is if I want a pup out of the cross. Of course there is usually more than one pup, so I may have pups available occasionally. I can no longer ship pups or hounds. It is too time consuming.
Click here to see the Buyer/ Seller Contract and Sales Agreement
That comes with every hound sold by DJ's Wolverine Beagles




*****FLASH*****
The airlines will NOT ship dogs or puppies through air cargo
if the departing, or destination temperature is above 85 degree's.
Your only alternative is through Delta Dash, counter to counter.
This could cost up to $200 or more!
Many people ask me about how/and how much to ship pups, or rabbits.
When you get to the AA home page, click on ; Programs and Services.
Then click on; Traveling with pets.
CLICK HERE TO GET AMERICAN AIRLINES INFO
CLICK HERE TO GET CONTINENTAL AIRLINES INFO
CLICK HERE TO GET US AIR INFO
CLICK HERE TO GET DELTA AIRLINES INFO
Shipping arrangements, health certificates, and transportation costs to the
airport ( 100 miles one way, $50 fee) are the responsibility of the buyer, if shipping is desired.



Announcements!
This is the section I will give up to date info on my hounds.
********************************************************************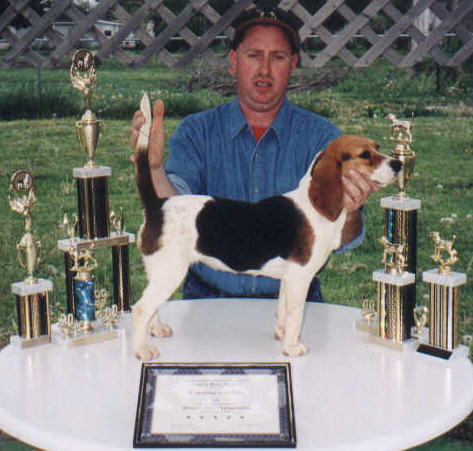 *********** NEWS FLASH!!!***************
Wolverine Gay Fury,
( Dickey's Gay Bandit X Brushcreek Gay Nell)
A pup from Nell's last litter , has won Best Puppy and Best of Show
at the Missouri State ARHA Gundog Brace Championship at Missouri Four State Beagle Club, Dadeville, MO.
She has won Best puppy at Nodaway Beagle Club, Ravenwood, MO.
She has won Best Puppy at Mo-Kan Beagle Club, Lee's Summit, MO.
She has won Best Puppy at the Gundog Brace U.S. Championships at Bootheel Beagle Club, Marston, MO.
Special thanks to Floyd Spainhour, at www.brushcreekbeagles.com ,
and Rick Harvey at Cedar Lane Beagles, LaMonte, Missouri, for selling me the hounds to
make this cross. Special thanks to all who Judged her!
She is now a Progressive Pack Bench Champion!



Look for a pictorial historyHERE of the GayHounds. This will be in constant construction. There are many other places to
find quality linebred Weircreek and GayHounds. I will list a few for you here;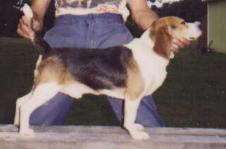 BANJO HAS PASSED ON
Ortego's Lil Teche Banjo
12 3/4"
Sire: FC Glynn's Gay Demon / Dam: FC Ben's Creek T-Babe
Welped: Dec. 15,1989- Feb. 15, 2001
Limited Breeding
Banjo was a conservative, close on the line hound
He was the youngest and is from the last litter of Demon and T-Babe

Bender's Beagles Has For Stud:

Bender's Brushcreek Gunnar. Owner: Ed Bender


Sire: Lint's Double Otis/ Dam: Lint's Jumping Jenny
Disposition of a house pet and excellent rabbit dog.
Breeding from Gay, Dingus, Adirondack, and other old time bloodlines
Negative Brucellosis test required.
360 Brewer Road, Rochester, Pa. 15074 (724)775-5192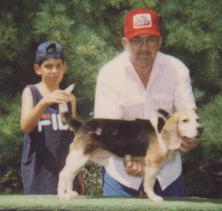 Spring River Kennels, Owned by Harold Schipper
Has for Stud: Hillman's Challenger
Sire: FC River Road Challenger / Dam: Sheena MacRae( Daughter of FC Dingus MacRae)
Challenger has come to Wolverine Beagles to retire

Ico Kennels, Owner; Bob Webb Breeding the Weircreek Demon Bloodline
ARHA RCH Medow Park Sam has passed on
Sire:FC Bevo's Weircreek Demon / Dam:Weircreek Red Ginnie
Ico, Arkansas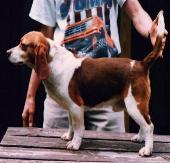 IF YOU KNOW WHO HAS HILLMAN'S DINGUS, PLEASE E-MAIL ME AT ADDRESS BELOW
Has for Stud: NRCH Hillman's Dingus
Sire: FC River Road Challenger / Dam: Sheena MacRae(Daughter of FC Dingus MacRae)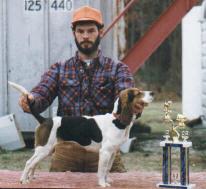 Triple K Kennels, Owner: Keith Redrow
Has for Stud:GRCH Redrow's Triple K Turbo
Sire: FC Ben's Creek Gay Devil / Dam: Redrow's Triple K Cindy
1447 State Hwy. 45, Swedesborow, NJ 08085

High Knob Kennels Owner:Greg Strohl Breeding the Gay, Little Ireland, and other oldtime bloodlines P.O.Box 545, New Lexington, Oh. 43764




Tried and true
Diamond has worked the BEST for us!




NEW
BEAGLES FOR SALE

PLEASE TAKE A MOMENT TO SIGN MY GUESTBOOK, THANKS FOR VISITING!






David Jones